arrow_circle_down Designs
arrow_circle_down Subscribe
arrow_circle_down Large Applique Sunflower Placemat and Coasters
---
Nothing brings more joy than the radiant beauty of a sunflower, and our Large Applique Sunflower Set is here to brighten your creative projects.  This multi hooping applique is stitched and joined entirely in the hoop, resulting in a design larger than your hoop's limitations in size.
This set offers you the flexibility of ten different size options, allowing you to select the perfect fit for your unique projects.  From the quick, one-hooping creations (perfect for coasters) to the larger sizes that can be used for placemats or stunning quilt centres, we've got you covered.
For our early followers, you might remember the sunflower as one of our very first large designs from a decade ago!  As we've digitised the set in 5 hoopings, creating a larger design, and added three new hoop sizes, we've retired the previous set.
These Large Sunflowers are made in five hoopings for 4x4, 5x7, 6x10, 8x12 and 9x14 sizes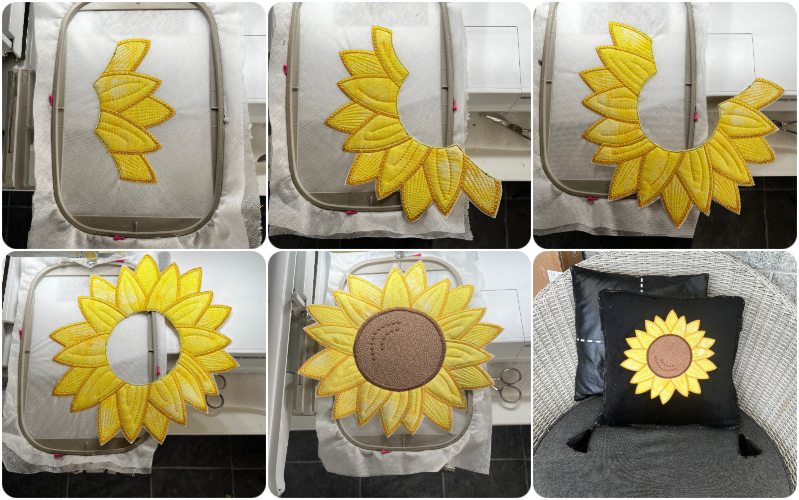 I have included a quick one-hooping design for 5x7, 6x10, 8x8, 9x9, and 10x16 sizes
FINISHED SIZE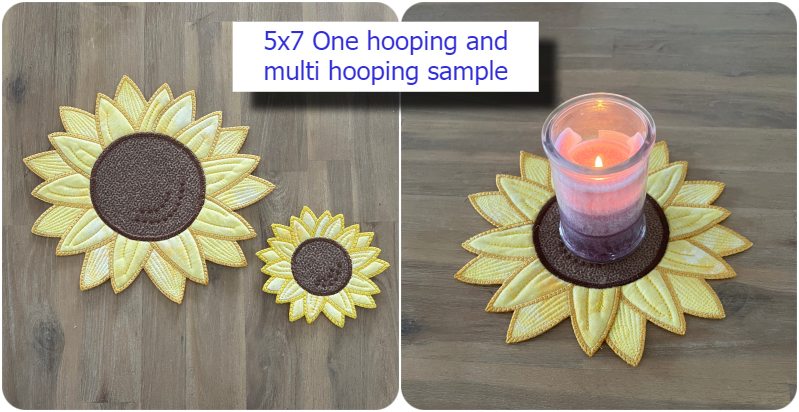 MULTI HOOPING

4x4 Hoop

100x100 mm

5x7 Hoop

130X180 mm

6x10 Hoop

160x260 mm

8x12 Hoop

200x280 mm

9X14 Hoop

230x360 mm

6.7 inch tall

7.4 inch wide

9.8 inch tall

10.7 inch wide

13 inch tall

14.2 inch wide

16 inch tall

17.5 inch wide

18 inch tall

20 inch wide

17 cm tall

 19 cm wide

25 cm tall

 27 cm wide

33 cm tall

36 cm wide

40 cm tall

45 cm wide

46 cm tall

50 cm wide
SINGLE HOOPING

5x7 Hoop

130X180 mm

6x10 Hoop

160x260 mm

8x8 Hoop

200x200 mm

9X9 Hoop

230x230 mm

10X10 Hoop

272x272mm

5 inch tall

5.4 inch wide

6 inch tall

6.7 inch wide

7 inch tall

7.7 inch wide

9 inch tall

10 inch wide

10.5 inch tall

11.6 inch wide

12.5cm tall

 14 cm wide

15 cm tall

17 cm wide

18 cm tall

19.6 cm wide

23 cm tall

25 cm wide

27 cm

29 cm wide
VIDEO
 WATCH AND WIN

Kay is running a competition on her You-Tube Channel

and follow her Instructions for a chance to get this design for free.

(Prize will be drawn 5th November 2023)
---
INSPIRATION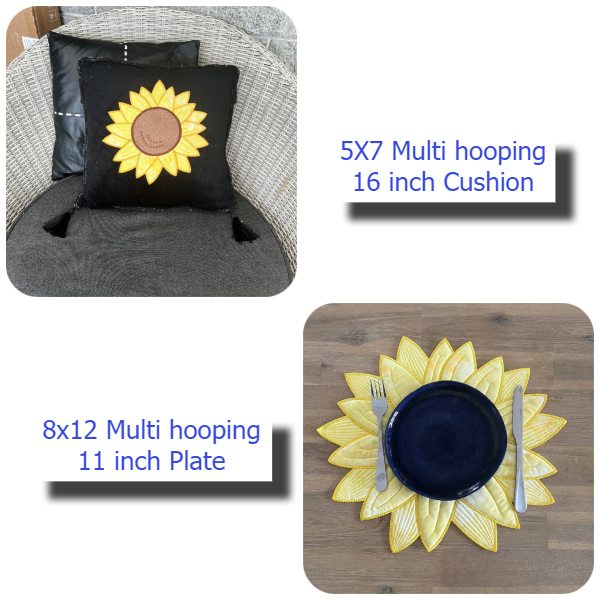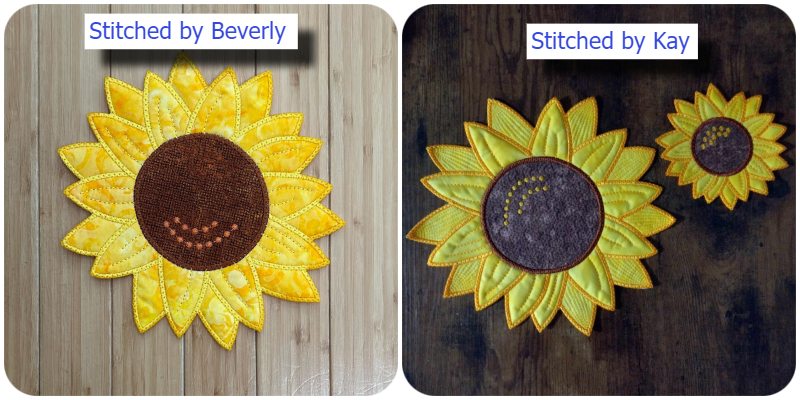 ---
 The following items were created with our original (smaller) Applique Sunflower) - I have included them for inspiration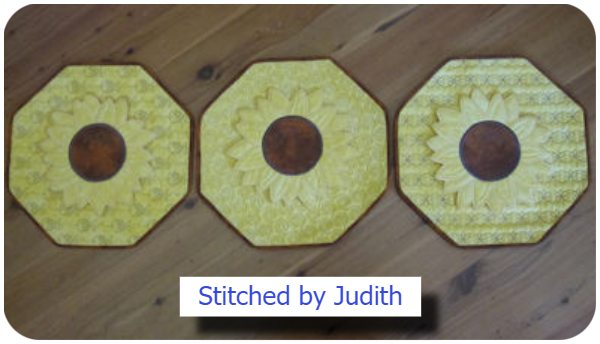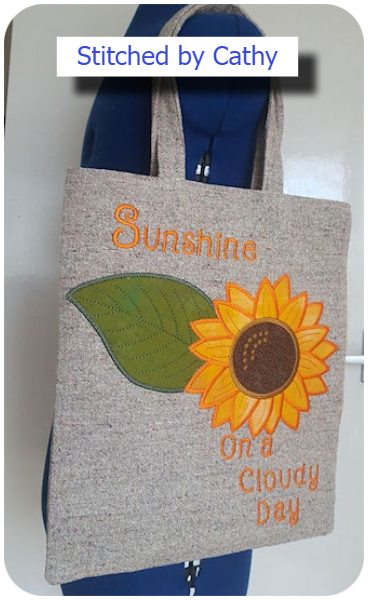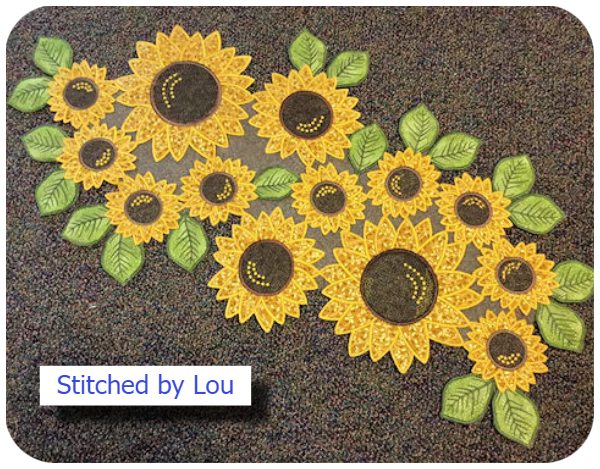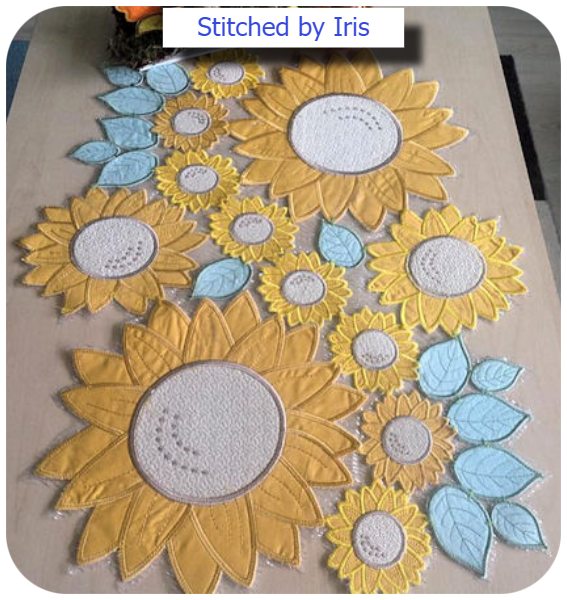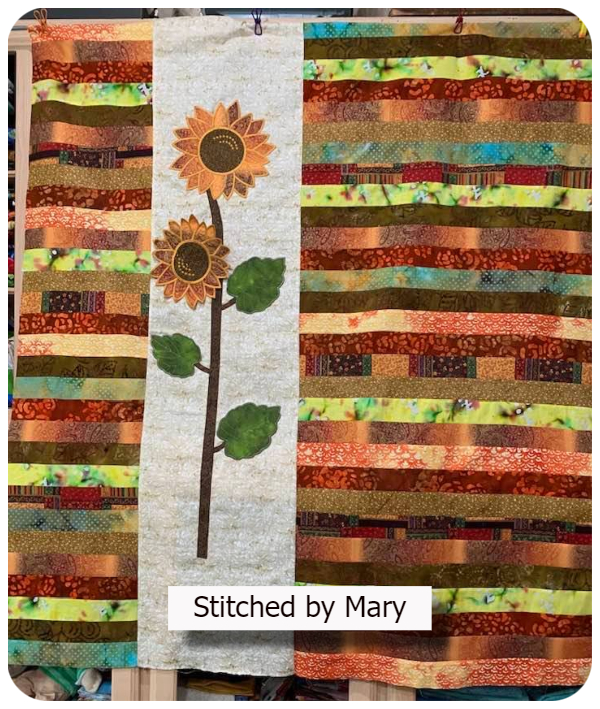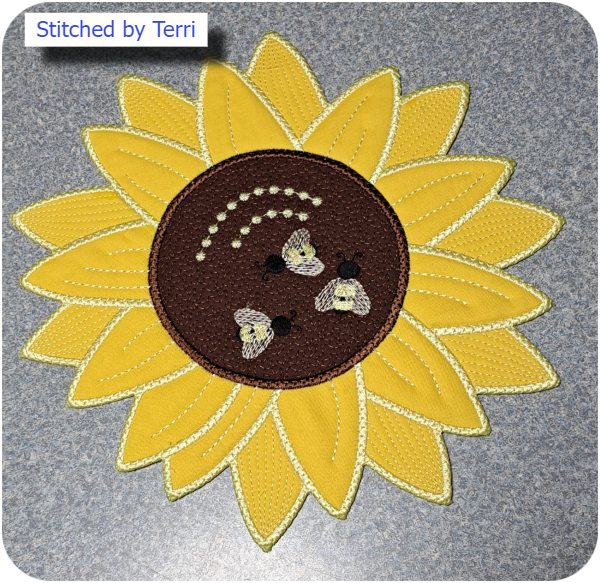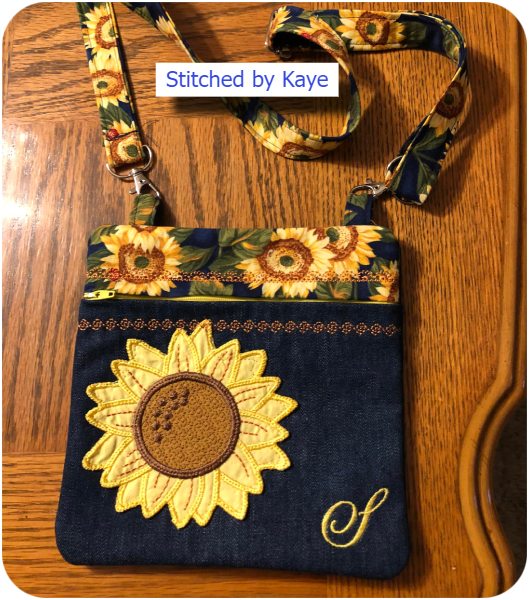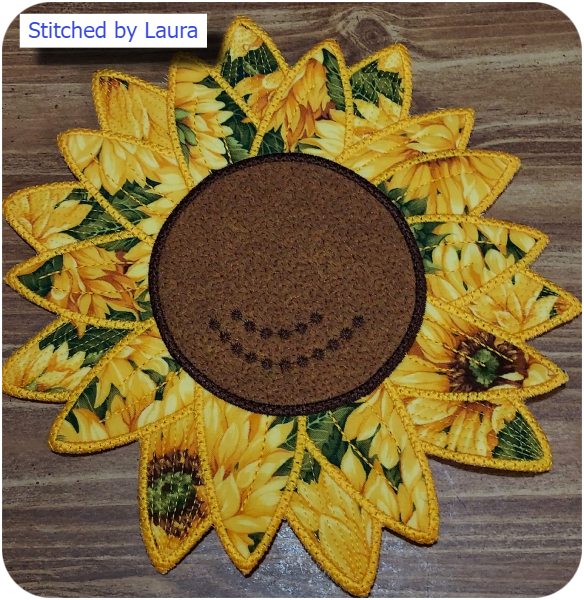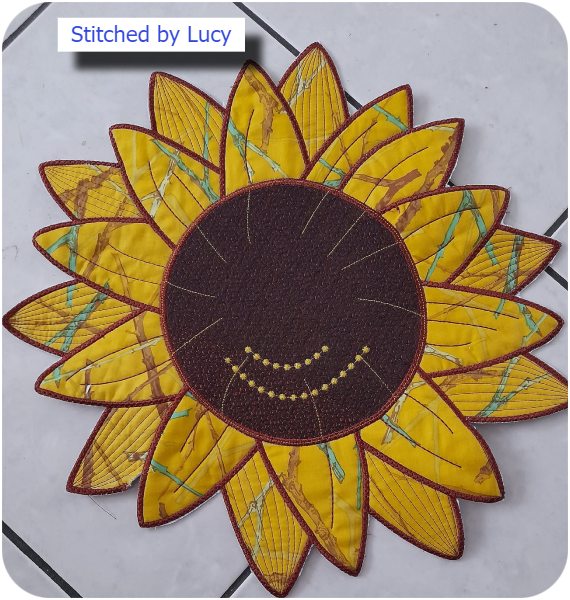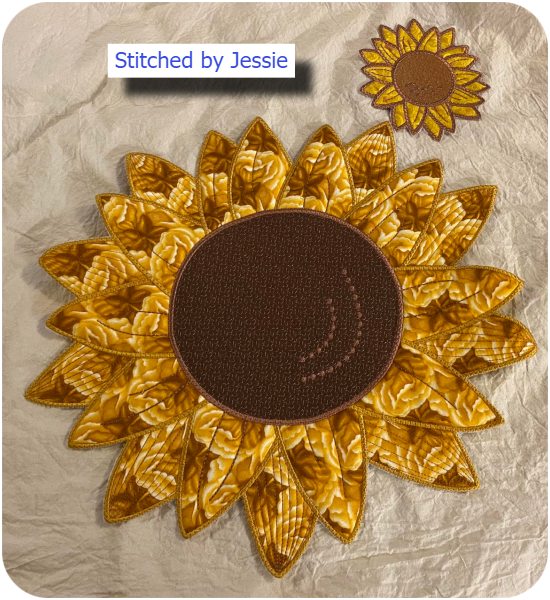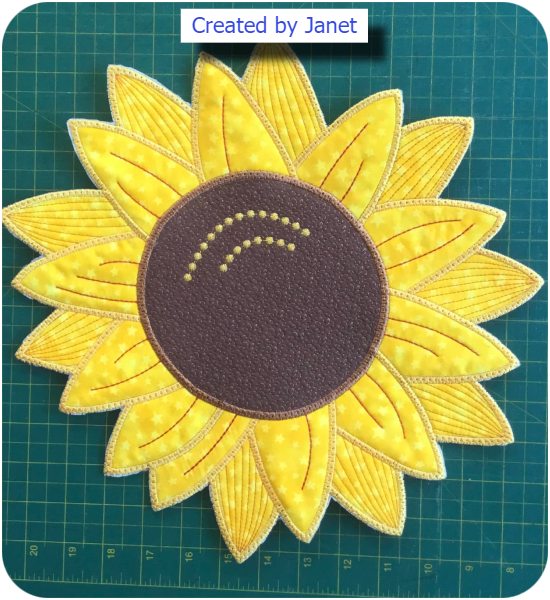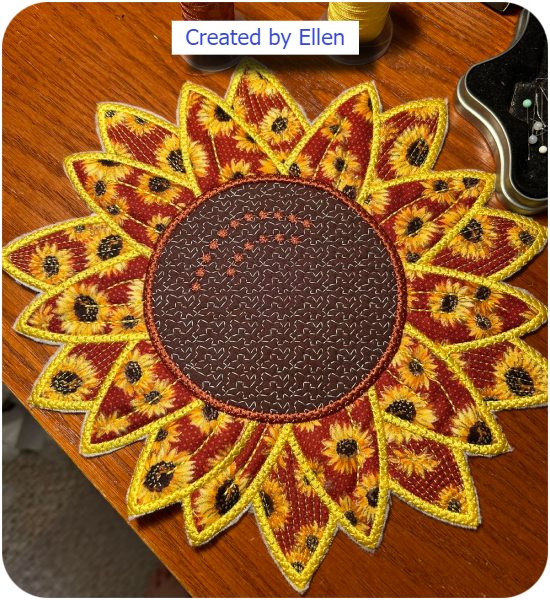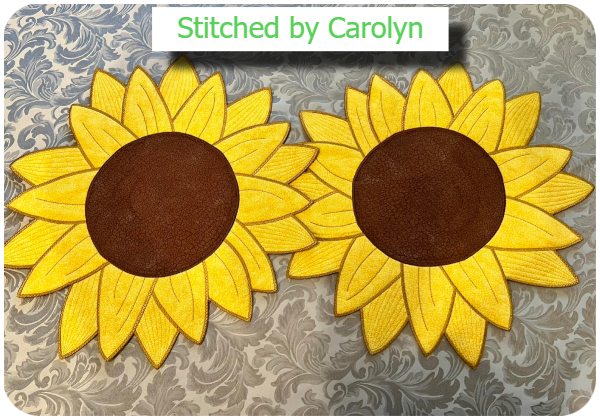 | Hoop Size | Model | Type | Year |
| --- | --- | --- | --- |
| 10x16 | | | |
| 4x4 | | | |
| 5x7 | | | |
| 6x10 | | | |
| 8x12 | | | |
| 8x8 | | | |
| 9x14 | | | |
| 9x9 | | | |