arrow_circle_down Designs
arrow_circle_down Subscribe
arrow_circle_down Easter Placemat (In-the-hoop)
---
In case you are new to the world of large applique designs, let me fill you in. A large applique design is one which needs 2 or more hoopings, with the joining completed as you stitch, in the hoop. The beauty of my large applique designs is you can quickly create a 3D Design much larger than your hoop.
---
---
Our In the hoop Placemat is made in 3 hooping's - joined easily in-the-hoop like a Jig-saw.
5x7 hoop             23 x 18 cm -  9 x 7 inch
6x10 hoop           31 x 24 cm  - 12 x 9 inch
ADDITION MARCH 2022 - 8x12 size  added
8x12 hoop           39 x 30 cm – 15 x 11.5 inch
(if you have already purchased this design, please log into your account and re-download the file)
Not just a Placemat - you can use it as a cute Wall Hanging, or as I am doing - add to a premade Shopping Bag to make a very cute Easter Bag!
Or, make a single Coaster, use 'CENTRE' design
The design set includes 7 Placemat designs - 4 Tall designs, and 3 Wide Designs in both 5x7 and 6x10 sizes
AND the Seven Redwork designs by themselves (5x7 hoop)
---
---
VIDEO
While we dont have a video for this placemat, you can watch Kay stitch her Coffee topper placemat, which uses the same techniques.
VIEW MORE LARGE APPLIQUE PLACEMAT VIDEOS
---
HELPFUL BLOGS
---
---
INSPIRATION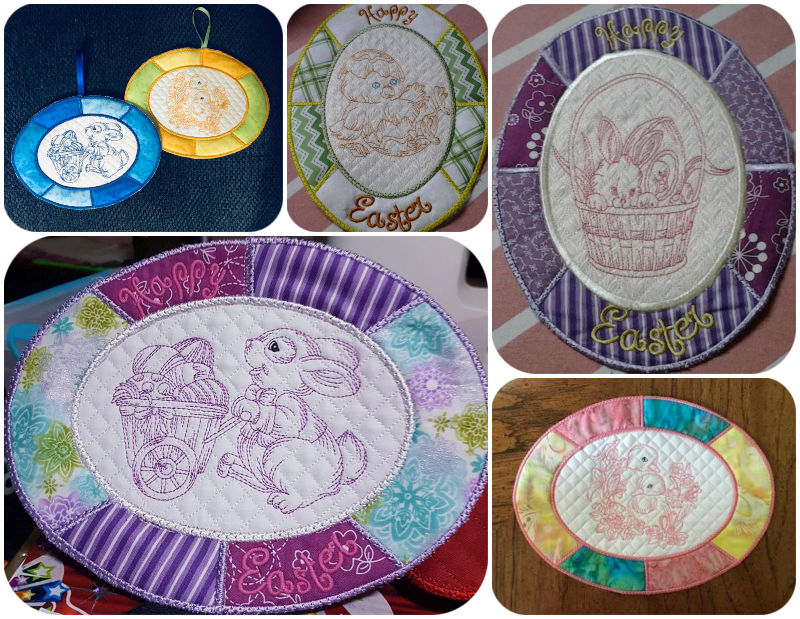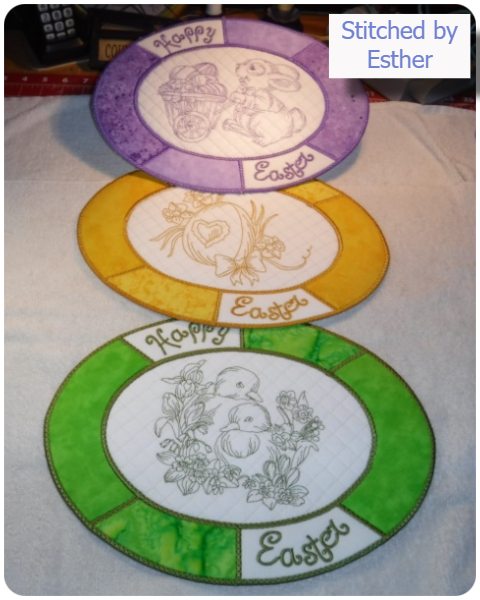 | Hoop Size | Model | Type | Year |
| --- | --- | --- | --- |
| 5x7 | | | |
| 6x10 | | | |
| 8x12 | | | |