arrow_circle_down Designs
arrow_circle_down Subscribe
arrow_circle_down Trapunto Sunflower Tissue Cover and Quilt Block
---
This tissue box cover is made for a tissue box measuring Width 4.38" x Height 5" x Depth 4" or 110 x 120 x 100 mm (the Kleenex Collections box fits beautifully)
It is made in a 5"x 7" hoop and most of the blocks are joined in the hoop, there are a few straight seams to sew.
There are two versions of the design and there is a plain block for each too with a verse included that you can put on it. You could of course personalise the plain panels or stitch another design onto it instead. The verse included can be stitched in a 4"x 4" hoop and is included as a separate file.
The tissue box samples were stitched using scuba fabric and Vilene 295 high loft fleece to accentuate the 3D effect of the pattern.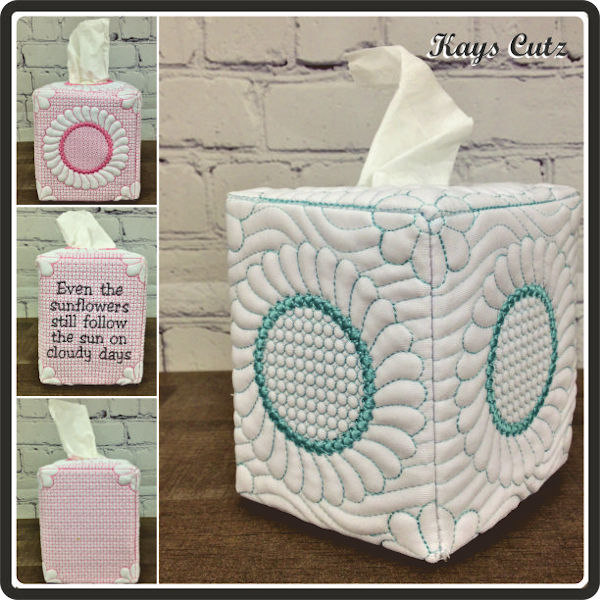 ---
Scuba fabric is a non fray, 4 way knit, made from polyester and spandex, with a very fine gauge thread and smooth texture, and is used for dressmaking. The name is coincidental and has nothing whatsoever to do with wetsuits or with scuba diving.Here is the link to where I buy my fabric and batting from so that you know what to look for so you can find a source near you.https://www.remnanthousefabric.co.uk/product/scuba-dress-fabric/
---
VIDEO
Watch Kay make the Tissue Cover
---
The Quilt Blocks
Hoop Sizes: 4"x 4", 5"x 5", 5"x 7", 6"x 6", 7"x 7", 8"x 8", 9"x 9", 9.5" x 9.5"
There is a matching set of quilt blocks, both versions of the design are included as well as the plainer blocks. You can make quilts, pillow cases, cushion covers, soft furnishings, bags, bathroom tidies, dressing table baskets, in fact anything you wish with these blocks.
We have a stitch along video showing to make and join quilt blocks here:
| Hoop Size | Model | Type | Year |
| --- | --- | --- | --- |
| 4x4 | | | |