arrow_circle_down Designs
arrow_circle_down Subscribe
arrow_circle_down Large Cupcake Applique
---
In case you are new to the world of large applique designs, let me fill you in. A large applique design is one which needs 2 or more hoopings, with the joining completed as you stitch, in the hoop. The beauty of my large applique designs is you can quickly create a 3D Design much larger than your hoop.
---
---
I created the large Cupcake, and just loved it, and decided it would be perfect for a Towel Topper in my kitchen, so have included a smaller Cupcake Towel Topper for the 5x7 hoop.
Our Large Cupcake is made in 3 hooping's - joined easily in-the-hoop like a Jig-saw.
You can use the larger designs to add to pre-made items – Toaster/Mixer covers etc, or by themselves as place-mats, or, use some of the great Cupcake Fabrics you can get, and add them to a quilt.
Finished Size
| | | | |
| --- | --- | --- | --- |
| 8x10 hoop | 8x8 hoop | 6x10 hoop | 5x7 hoop |
| 30 by 36cm | 22 by 27cm | 27 by 33cm | 19 by 23cm |
| 12 by 14.5 inch | 9 by 11 inch | 10.5 by 13 inch | 7.5 by 9.5 inch |
---
VIDEO
New to our Large Applique designs? 
Watch Kay's step-by-step video which shows you the techniques to make a Large Applique Design 
Make your first Large Applique Animal
VIEW MORE LARGE APPLIQUE PLACEMAT VIDEOS
---
HELPFUL BLOGS
---
INSPIRATION
Cathy used our Large Cupcakes on her Apron and Oven Gloves
Our Fantastic Faye made this gorgeous Reading Pillow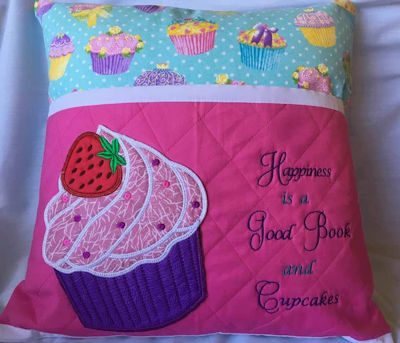 Sand added a layer of vinyl to her finished Cupcake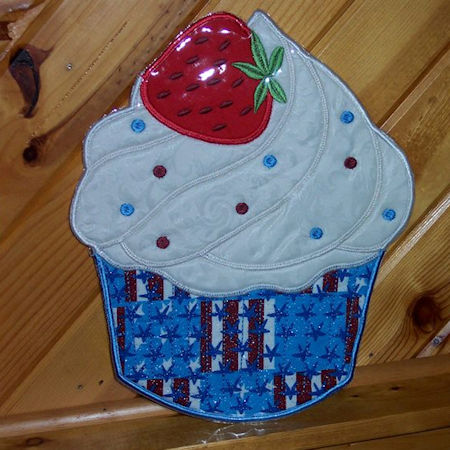 We love Karen's Cupcale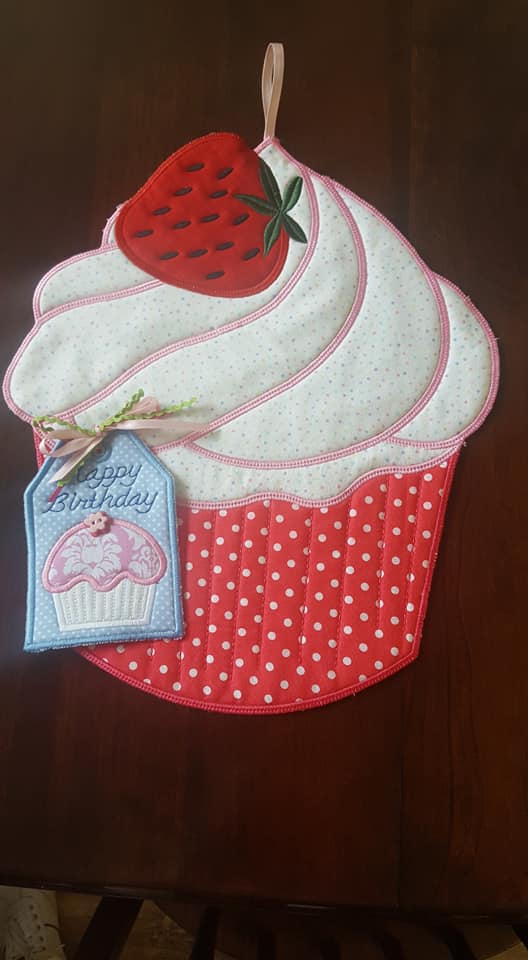 Click here to view more designs made by our Kreative Kiwi group members for more inspiration!
| Hoop Size | Model | Type | Year |
| --- | --- | --- | --- |
| 5x7 | | | |
| 6x10 | | | |
| 8x10 | | | |
| 8x8 | | | |