arrow_circle_down Designs
arrow_circle_down Subscribe
arrow_circle_down Large Christmas Candle
 Our large Christmas Candle Is made in 3 hooping's joined easily in-the-hoop like a jig-saw, so while there are a few hooping's, there is no awkward aligning, so comes together quite fast.

 

Finished Size

5x7 hoop

24 by 25cms

9.5 by 10 inches

 

6 x10 hoop

34 by35cms

13 by 14 inches

 

I made the candle to complement my Hexagon Table-runner.  (Instructions included). 

It would also be suitable as a centre piece for a Long Table Runner.

A variation would be to stitch  just the Poinsettias.

 
---
INSPIRATION
 Our Talented toni stitched these Candles - it's amazing how different fabrics change the design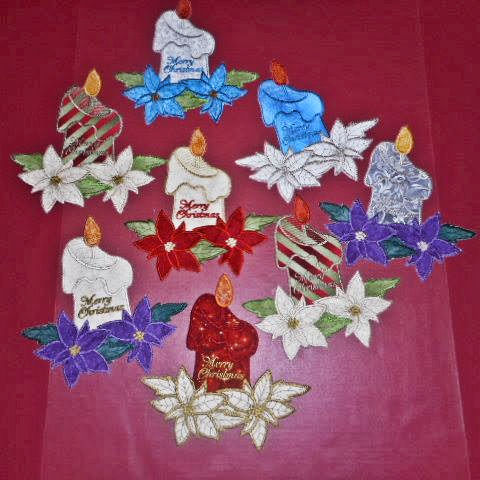 ---
| Hoop Size | Model | Type | Year |
| --- | --- | --- | --- |
| 5x7 | | | |