arrow_circle_down Designs
arrow_circle_down Subscribe
arrow_circle_down In the hoop Stacked Snowman
In case you are new to the world of large applique designs, let me fill you in. A large applique design is one which needs 2 or more hoopings, with the joining completed as you stitch, In the hoop. The beauty of my large applique designs is you can quickly create a 3D Design much larger than your hoop.
Another 'as requested' design – Our Stacked Snowman is a completely reversable multi hooping design – make a 2,3 or 4 tier stacked Snowman.
Choose between the 'Let It Snow' wording, buttons, or add your own embroidery wording, or leave plain with fabrics only
This is based on all four tiers of the Snowman being stitched
4x4

5x7

8x8

6x10

9x9

9.8 by 27.5 cm's

14.6 by 41 cm's

19.7 by 56

cm's

18 by 51

cm's

23 by 64 cm's

3.9 by 10.5 inches

5.7 by 16

inches

7.8 by 22 inches

7 by 20

inches

9 by 25

inches
Watch Kay make our Stacked Snowman
How cute are these samples made by Sandy, Beverley, Kay and Kim (Thank you Ladies!!)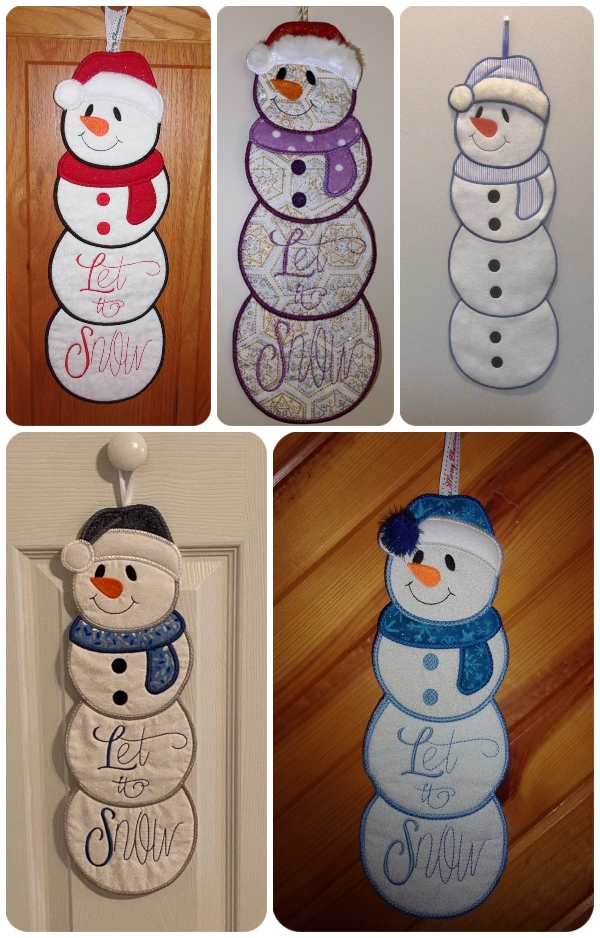 How cute is this wall hanging created by Linda. Linda combined the Stacked Tree, one layer of the stacked snowman, and our Free snowman Coaster to make this very cute wall hanging. The background is wall paper, and Linda has poked little fairy lights thru the paper to light up the Tree!!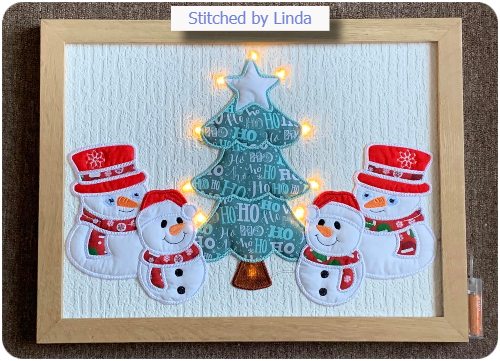 | Hoop Size | Model | Type | Year |
| --- | --- | --- | --- |
| 4x4 | | | |
| 5x7 | | | |
| 6x10 | | | |
| 8x8 | | | |