arrow_circle_down Designs
arrow_circle_down Subscribe
arrow_circle_down Large Applique Gnome
In case you are new to the world of large applique designs, let me fill you in.  A large applique design is one which needs 2 or more hoopings, with the joining completed as you stitch, In the hoop.  The beauty of my large applique designs is you can quickly create a 3D Animal Design much larger than your hoop, and then add them to quilt blocks, reading pillows or pretty much any item as you like. 
This very cute Gnome is super quick to stitch
Includes wording – 'Home sweet Gnome' (for 5x7 hoop and bigger) or personalise with your own wording
Can be made completely reversable
Change hat fabrics to suit different seasons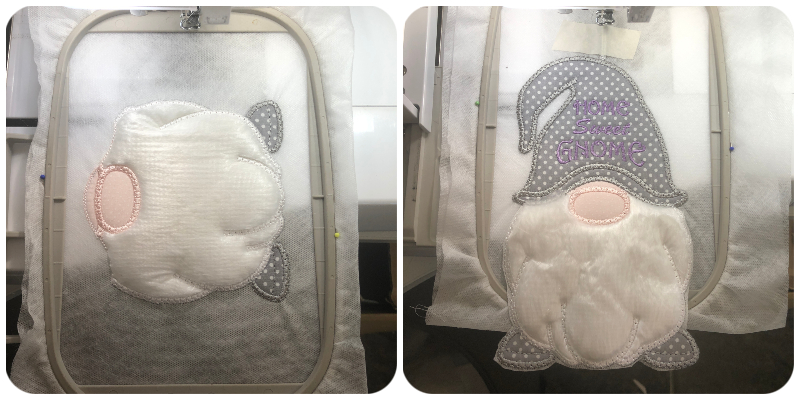 Can be made completely reversable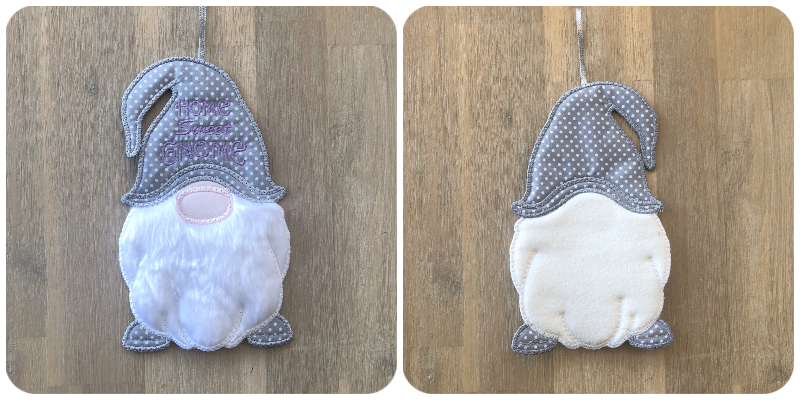 4x4

100x100mm

5x7

130x180mm

6x10

160x260mm

8x10

200x260mm

98x16.5cm's

13 by 22 cm's

16 by 31 cm's

20 by 39 cm's

3.8 by 6.5 inches

5 by 9 inches

6 by 12.3 inches

7 by 15 inches
Watch Kay's step by step video
Karen used this awesome faux fur to make her Gnomes into Gonks!!  Karen added little black beads for eyes, and shares how she stitches the  fur 
I cover it with WSS, but brush all the fur towards the middle before sewing. When you cut away excess before last stitching, you get a natural line of fur after brushing it out,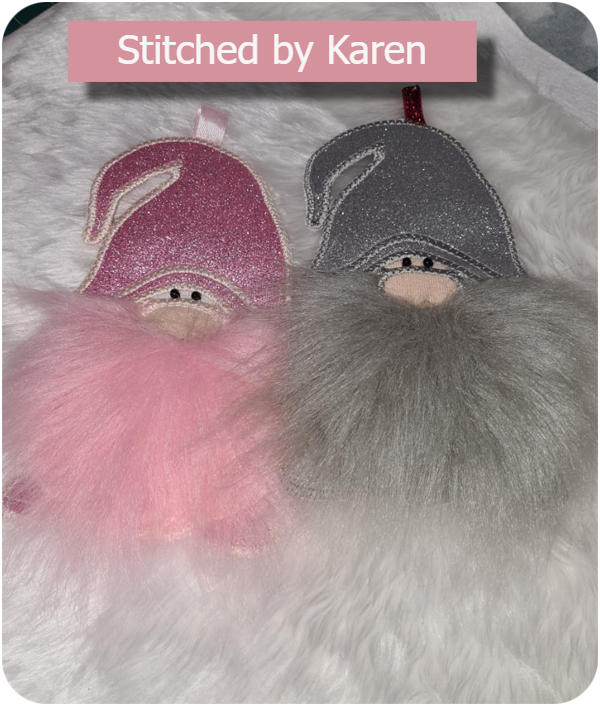 ---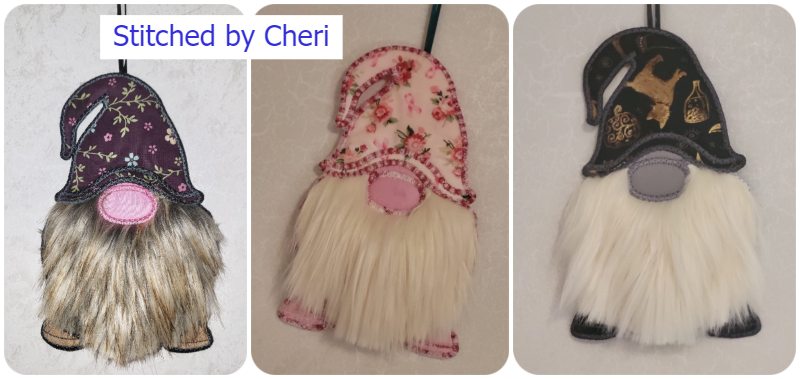 Theres so much to love with this Large Gnome cushion by Kathryn. 
Not only is it her first Large Applique design, Kathryn also added a small amount of padding as she stitched the Gnome to her cushion, so her Gnome really pops.  Very creative Kathryn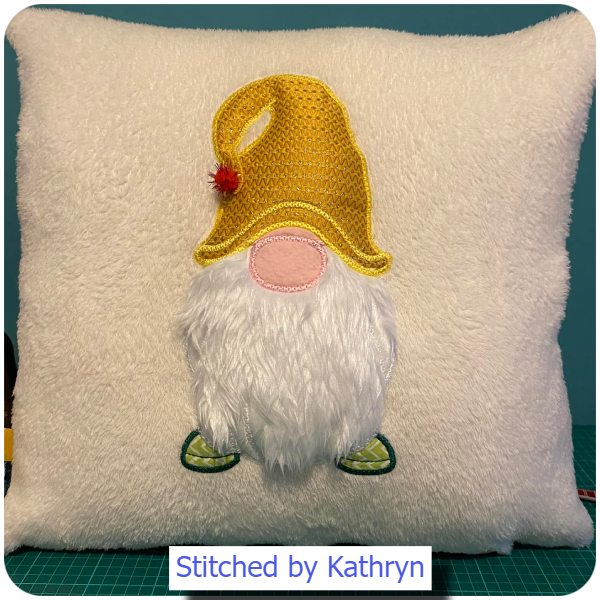 ---
This is one of Nancy's entries into our Up-cycling competition
I bought this fur coat on Facebook marketplace for $4. The coat was badly damaged (don't know how) and the seller didn't want to just throw it out. I use the fur for the beard, the lining for the hat, and the interfacing for the nose.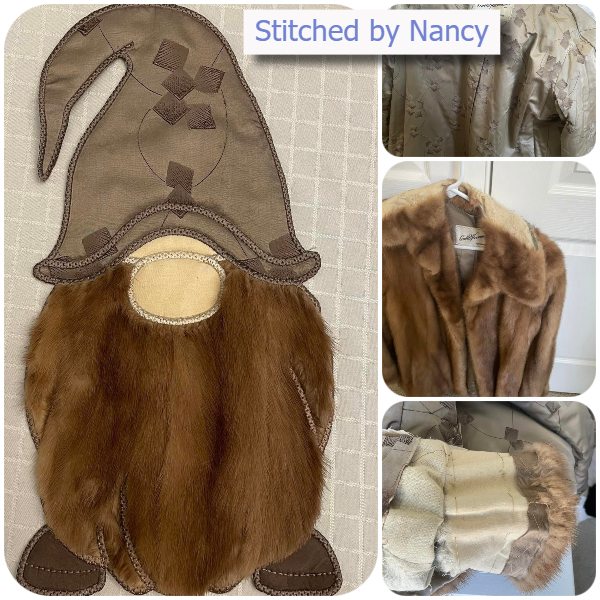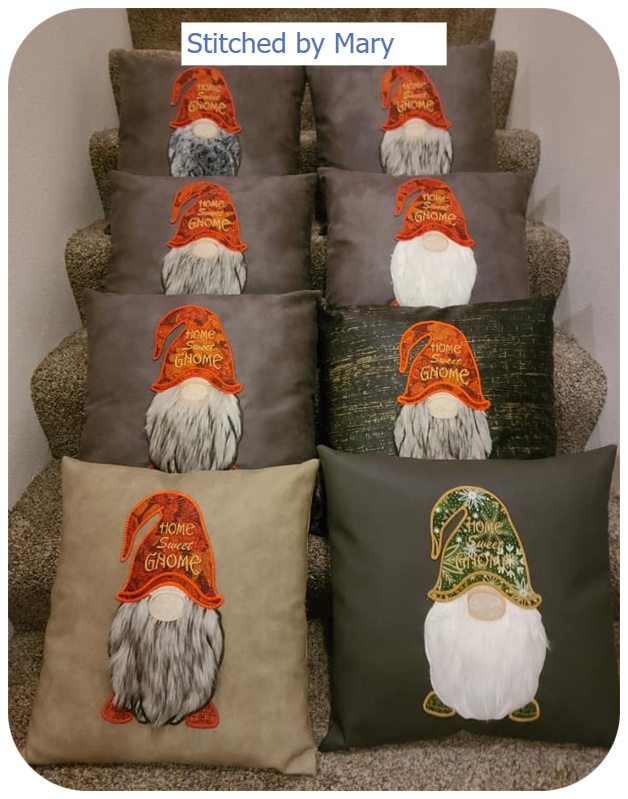 Click on photo to view larger image
| Hoop Size | Model | Type | Year |
| --- | --- | --- | --- |
| 4x4 | | | |
| 5x7 | | | |
| 6x10 | | | |
| 8x10 | | | |