---
In case you are new to the world of large applique designs, let me fill you in. A large applique design is one which needs 2 or more hoopings, with the joining completed as you stitch, in the hoop. The beauty of my large applique designs is you can quickly create a 3D Design much larger than your hoop.
---
Two for the price of One!   Create this reversable topper with a favourite fabric or embroidery design on the front, and a different fabric on the back for two styles
Our Topper is created with 7 hooping's, with all the joining and aligning completed in the hoop.   This allows you to make a topper much larger than your hoop size
A big Thanks to Beverly and Sandy who stitched our these gorgeous samples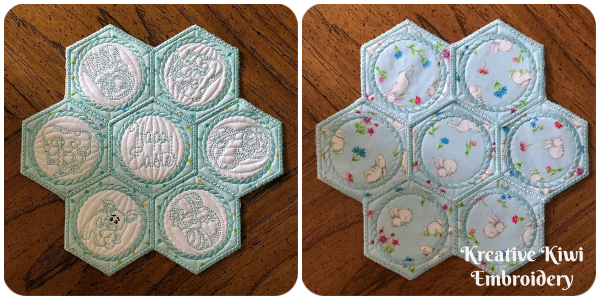 Beverly stitched the 4x4 Easter design with this gorgeous bunny fabric for the reverse
You can make a 9 inch topper with your 4x4 hoop
FINISHED SIZE
4x4 Hoop

5x7 Hoop

6X10 Hoop

8x8 Hoop

9x9 Hoop

24.5 by 23.6 cms

9.6 by 9.3 inches

36.4 by 35 cms

14.3 by 13.8 inches

46 by 44.3 cms

18 by 17.5 inches

49.4 by 47.6 cms

19.5 by 18.7 inches

61 by 69 cms

24 by 23 inches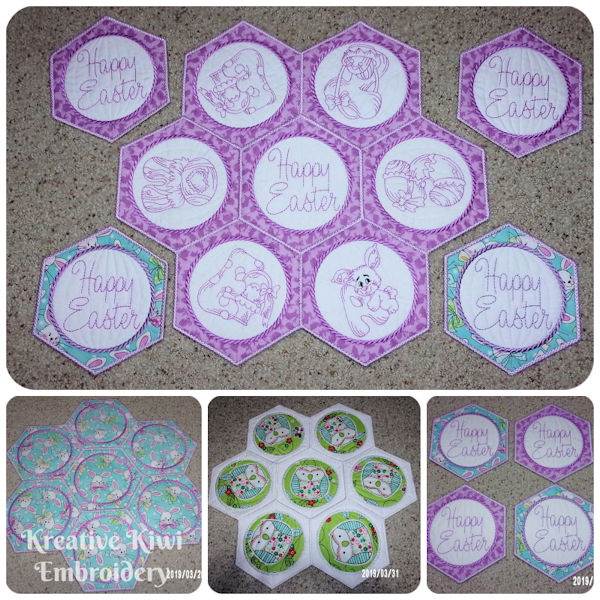 Sandy stitched the 6x10 version of the Easter Topper and used the centre design by itself to create the matching Coasters
---
VIDEO
Watch Kay stitch out the Topper
VIEW MORE LARGE APPLIQUE PLACEMAT VIDEOS
---
HELPFUL BLOGS
---
INSPIRATION
Click here to view more designs made by our Kreative Kiwi group members for more inspiration!