arrow_circle_down Designs
arrow_circle_down Subscribe
arrow_circle_down Straw Holders In the hoop
As we move away from disposable plastics, reusable straws are becoming increasingly popular. Are yours clattering about in your handbag, car storage compartment, or utensil drawer? How about making something to store them in and keep them fresh and clean?
Faye of Faye's Threads has created this awesome In the hoop Straw Holder Set
The single straw holder is made completely In The Hoop, has enough room to hold the cleaning brush, is finished in satin stitch, and lays flat.

The 2 and 4 straw holders are made In The Hoop with a small amount of hand stitching to finish off, They roll up to a convenient size and have an extra space to hold the cleaning brush.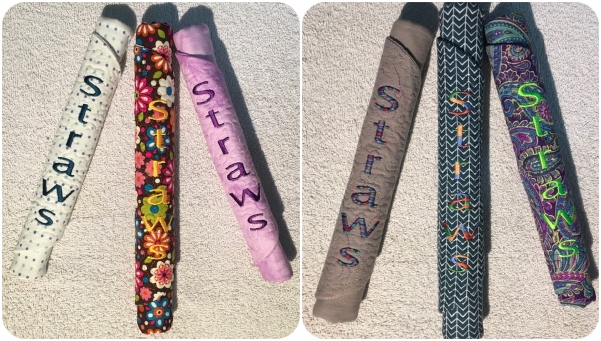 Both styles will accommodate straight and bent straws.
Included are designs for both 9 and 10 inch straws.
Quick and easy to make, they are ideal scrap busters and make great inexpensive gifts too
| Hoop Size | Model | Type | Year |
| --- | --- | --- | --- |
| 6x10 | | | |