arrow_circle_down Designs
arrow_circle_down Subscribe
arrow_circle_down In the hoop Medi Rescue Pouch
---
In the hoop Medi Rescue Pouch By Kay's Cutz
---

Included in this set - Anaphylaxis, Diabetes, Cardiac, Migraine, First Aid Kit and a Blank with just the medic alert symbol so that you can add your own condition with you machines built in fonts. I would recommend putting a first aid kit in a water tight bag before putting it into a pouch to keep it all dry.
This pouch is made in a 5x7 hoop.
The approximate finished size of the pouch when folded as per the instructions are as follows:
Single - 180 x 60 x 40 mm or 7-0" x 2-3/8" x 1-3/8"
Double- 180 x 90 x 40 mm or 7-0" x 3-3/4" x 1-3/8"
Inner folding flaps that keep the contents in are 15cm long or 6".
The front top and bottom flaps are 9 cm long or 3.5".
---
After the success of the Asthma pouch I was asked if I could make a pouch to carry Epipens by the Anaphylaxis sufferers on Kreative Kiwi's Facebook group. So armed with a brief of all that that had to have for it to be a fully functional pouch suitable for anaphylaxis sufferers and a set of empty Epipen tubes very kindly sent to me from half way across the world by Christine Ann Thibodeaux this pouch developed. Once it was ready Christine kindly did all the test stitching and tried it out for functionality too so a massive thank you must go to her for making it possible.
For Epipen carriers:
There are two sizes, for single and double pens no further explanation needed there
Thermo resistant batting was used to protect the pens from temperature variations.
It pulls open very quickly with Kam snaps in the event of an emergency.
The base is large enough to include a vinyl document sleeve for a medical plan.
A name pocket is included and a printable label for emergency contact details.
Other medical conditions:
As it turned out people with other medical conditions asked if it could be made adaptable for them too so I have done my very best to make it as versatile and adaptable as possible.
The flaps fold round to create the pouch and pockets can be added to the back of them to suit your own needs. The inner folding flaps that cross over each other to hold the contents. Due to their long length they can accommodate a wide variety of thicknesses. The trade off is that the thicker the contents the more you lose on the height of the outside front flaps.
For diabetics with a One Touch Plus glucose meter, the case fits inside the double pouch when made and folded as per the instructions but it hasn't been tried with other brands as I don't have any more available to me.
I hope this pouch works for you.
Happy stitching!
---
VIDEO
---
INSPIRATION
Christine Ann stitched this sample of the Medi Rescue Pouch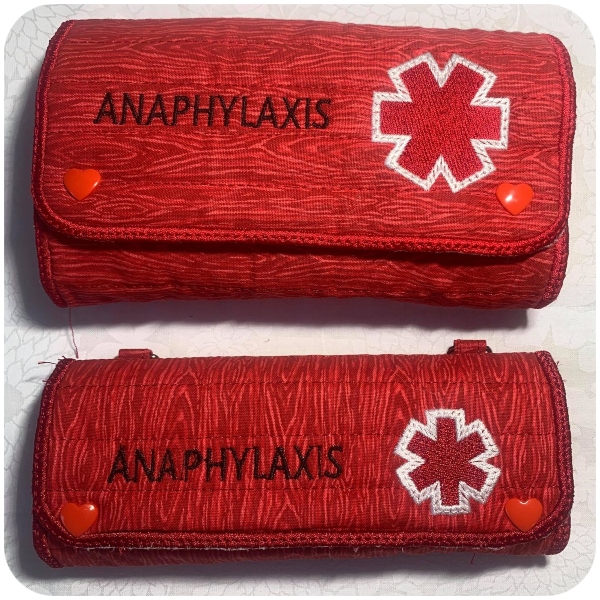 | Hoop Size | Model | Type | Year |
| --- | --- | --- | --- |
| 5x7 | | | |