arrow_circle_down Designs
arrow_circle_down Subscribe
arrow_circle_down In the hoop Baby Bib
In case you are new to the world of large applique designs, let me fill you in. A large applique design is one which needs 2 or more hoopings, with the joining completed as you stitch, In the hoop. The beauty of my large applique designs is you can quickly create a Design much larger than your hoop.



FINISHED SIZE

Approximately 12 long by 7.5inches wide (6x10 or 8x8 hoop)

12 long by 7 inches wide (5x7 hoop)

(we purposely made the straps longer, to allow for growth)

A big Thanks to Bev and Sandy for making these beautiful Samples

We especially LOVE Bev's very cute neighbour who kindly modelled the 5x7 size
5x7 6x10 or 8x8 hoop required
We've had so many requests for an in the hoop Baby Bib, so we created this simple design set.
A HUGE thanks to our fantastic Admin Ladies who helped so much with this bib, and all added their own creativity to show how versatile this design can be, using different fabrics types, styles and colors.
Our In the hoop Baby bib is created in 2 hooping's for 6x10 hoop and 3 hooping's for the 8x8 hoop.

Stitched by Darina

Diamond Quilting on Straps

Star Quilting on Bib

Stitched by Heather

Line Quilting on Straps

Heart Quilting on Bib

Two styles of Quilting for Straps - Diamond or Lines
Two styles of Quilting for Bibs - Hearts or Stars
Two styles of Applique Patch - Circle or Heart
Plus 4 Animal Designs to choose from
| | |
| --- | --- |
| | |
| Stitched by Sandy | Stitched by Darina |
New to this style of design?
Watch Kay make our In the hoop Bib
When Gabe shared her very cute photos of the bib's she made using our Large Animal Appliques, so many asked for her instructions.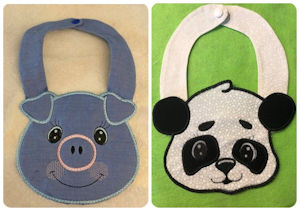 I was working on this bib set at the time, so have added a set of straps that you could use with many of our Large Applique Animal designs.
YOU WILL NEED TO ADAPT THE ORIGINAL APPLIQUE ANIMAL DESIGN - USING ONLY THE HEAD PORTION, AND 'FITTING' THE BONUS BIB STRAPS TO FIT
(I've included my step my step instructions to make the Piggy Bib)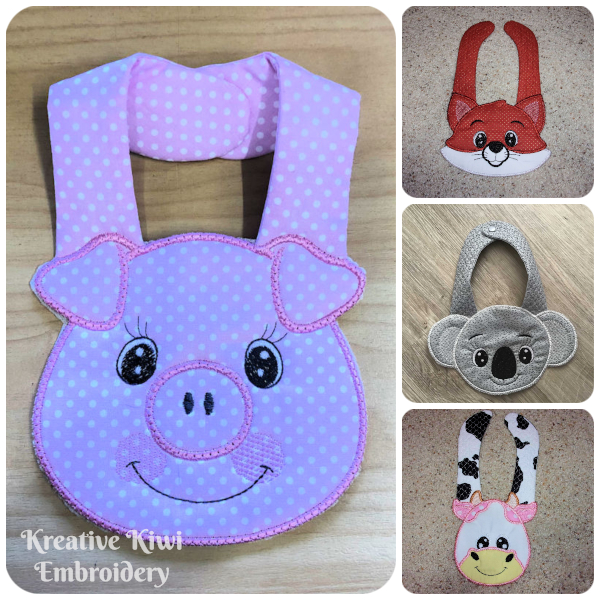 Again, Thanks to Sandy for her Fox and Cow samples, and Darina for her Koala sample - aren't they cute!!
Bettie was awarded an Instant Win for her great idea of combining the Bib and Large Duck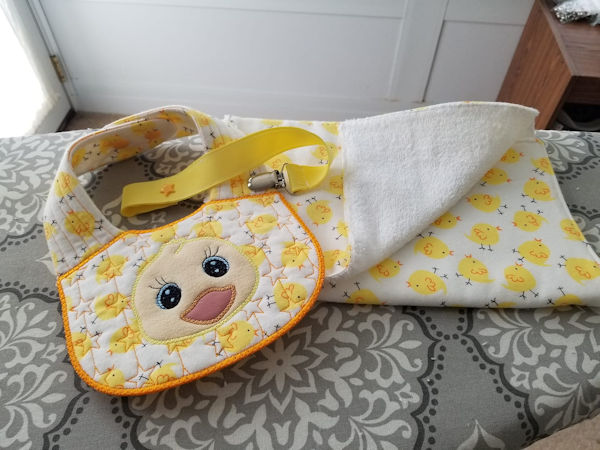 Need some more Inspiration?
| Hoop Size | Model | Type | Year |
| --- | --- | --- | --- |
| 5x7 | | | |
| 6x10 | | | |
| 8x8 | | | |