arrow_circle_down Designs
arrow_circle_down Subscribe
arrow_circle_down Free Large Flower Applique
Our free Large Applique Flower is made in 5 hoopings  - joined easily in-the-hoop like a Jig-Saw so no intricate aligning problems
Finished Size
| | | | |
| --- | --- | --- | --- |
| 8x10 hoop | 6x10 hoop | 5x7 hoop | 8x8 hoop |
| 39 by 39 cm's | 33 by 33 cm's | 25 by 25cm's | 35 by 35 cm's |
| 15.5 by 15.5 inch | 13 by 13 inch | 10 by  10 inch | 14 by 14 inch |
Once you have created your Flower you can add them onto a pre-made item, - sweatshirts – tunics, cushions, Shopping Bags, Towels etc.  The larger designs would be great as Placemats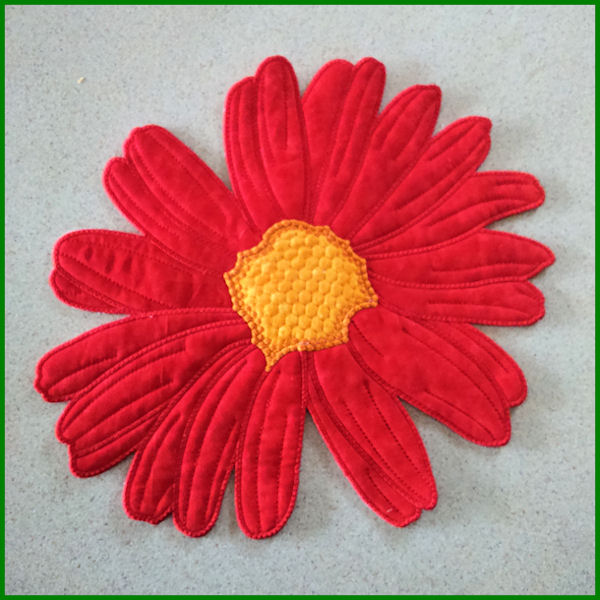 BONUS BONUS BONUS BONUS
Vicky from A Notion to Quilt - sent me photos of a Table Topper she has made and added our designs to.  As soon as I saw the photos, I knew I wanted to make one for this Flower Design.  So huge THANKS to Vicky for not only sending me her instructions, but allowing me to share them with you.  YES THEY ARE INCLUDED WITH THIS SET!
(I used the large 8x10 flower design on my Topper – next time I will use a smaller size, so you can see the detail in the Topper)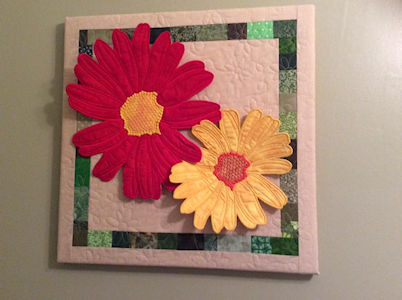 View your shopping basket or browse other items.
Other products you might be interested in