arrow_circle_down Designs
arrow_circle_down Subscribe
arrow_circle_down Extra Large Double Dresden Placemat
As requested, – an even bigger Double Dresden Design 
Available for 4x4 hoops
8 segments, rather than 4, so the finished design is much larger – 4x4 hoop makes a 10.5-inch Placemat – the 9x9 hoop makes a 24-inch Placemat
FINISHED SIZE
4X4 Hoop

100X100mm

5x5 Hoop

130X130 mm

6x6 Hoop

160x160 mm

8X8 Hoop

200x200mm

9X9 Hoop

230x230mm

10.5-inch square

 

14-inch

square

 

17-inch square

 

21-inch square

 

24-inch square

 

27 cm square

36 cm

square

43 cm square

54cm square

62cm

square
With the 4th of July coming up, I have included four 4th of July themed centre designs, or you can add your own centre design, or leave blank as we did for our Floral version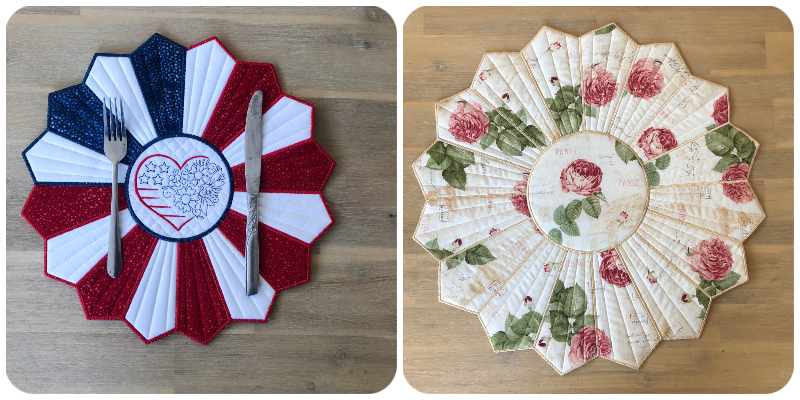 Our design has minimal quilting – showcasing your favourite fabrics is the idea for this one – Easily make seasonal Placemats by using your favourite Halloween, Easter, Christmas Fabrics
The Placemat can be completely reversable.
---


---
VIDEO
Watch how we make the 4th of July version of our Extra Large Double Dresden
---
HELPFUL BLOGS
---
INSPIRATION
Darina stitched this beautiful Blue and White reversable Double Dresden Placemat
The inner design is from our Floral Coasters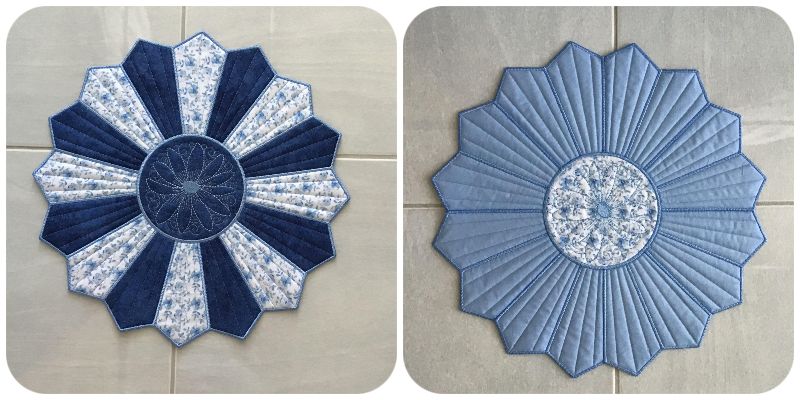 We're getting some beautiful samples coming thru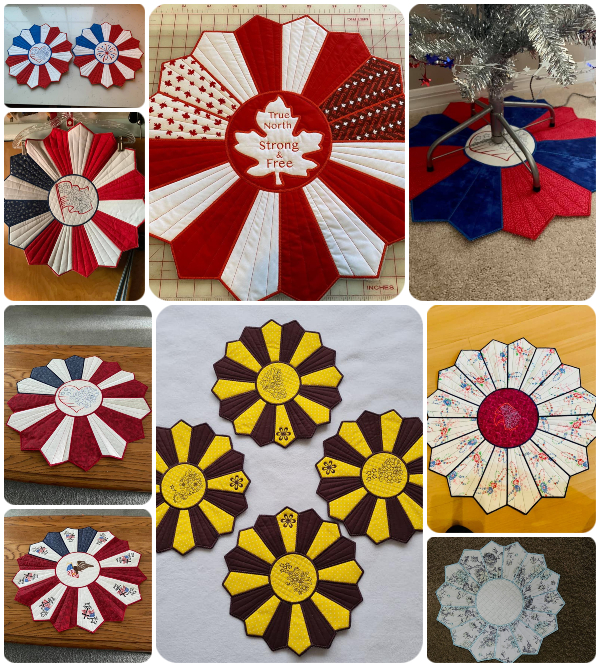 ---
LOVE this idea of Karen's to leave out the centre and bind the raw inner edges with Ric Rac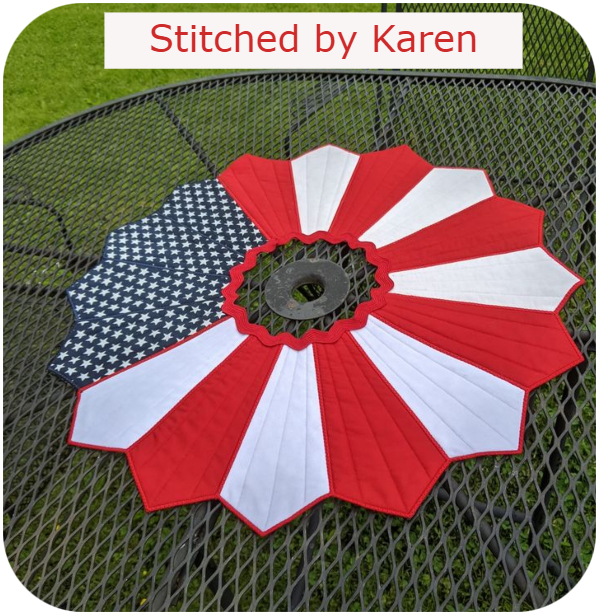 ---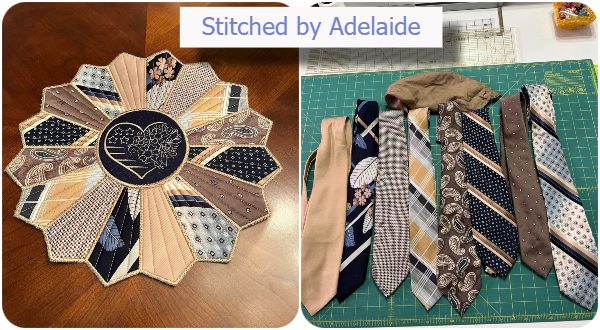 Adelaide made this beautiful remembrance project using 8 of her Late Brother's Ties, and the 6x6 hoop size
Stunningly Beautiful Adelaide!!
---
Beth shared her 'made with ties' version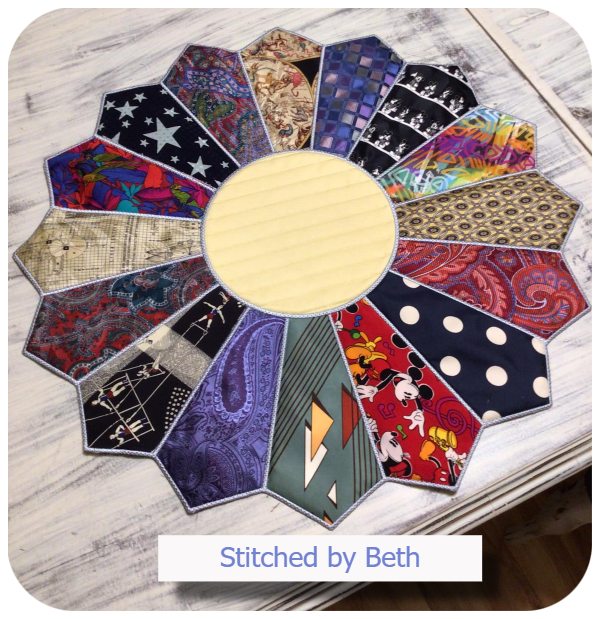 ---
Need some fabric inspiration?  Here is a small sample of Placemats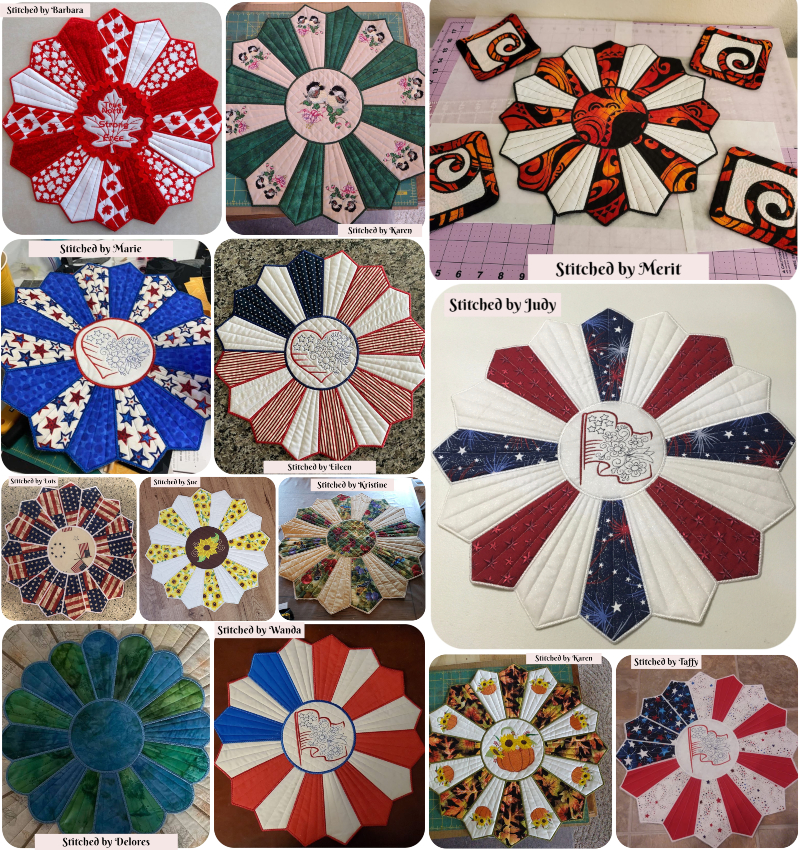 ---
VIEW MORE SAMPLES OF OUR DRESDEN DESIGNS
---
| Hoop Size | Model | Type | Year |
| --- | --- | --- | --- |
| 4x4 | | | |
| 5x5 | | | |
| 6x6 | | | |
| 8x8 | | | |
| 9x9 | | | |