Our unique Spider Placemat is made in multiple hooping's - joined easily in-the-hoop like a Jig-saw.  The Coaster is created in One Hooping.
We have included instructions to 'stuff' the spider to give a 3D effect
Whereas the Coaster is completely reversable, the multi-hooping Placemat is not - you can stitch the completed design to a piece of felt and cut away the excess if you need the Placemat to be completely reversable.   The Placemat would look great attached to a tote Bag as a Halloween Goodie Bag or stitched to a cushion!
Finished Size Coaster
5X5 Hoop                                              12.8cm by 12.8cm - Just under 5 inch
6X6 Hoop                                              15.8cm by 15.8cm - Just under 6 inch
8X8 Hoop                                              19.8cm by 19.8cm - Just under 8 inch
Finished Size Placemat
5X7 Hoop                                              24cm by 24cm – 9.5 inch
8X8 Hoop                                              28cm by 28 cm – 11 inch
6X10 Hoop                                            32cm by 32cm – 12.5 inch
8X10 Hoop                                            36cm by 36cm – 14 inch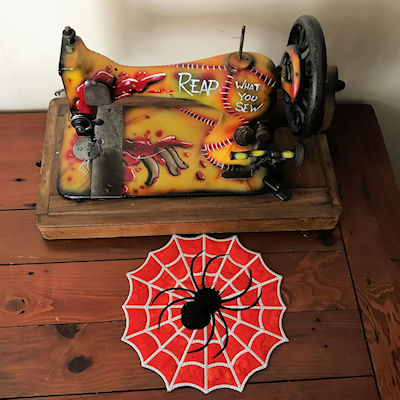 This placemat goes perfect with my 'reap what you sew' machine
---
The design has been on sale for 3 days and we already have photos coming thru from our Kreative Group
The Coasters go well with our Free Halloween Coaster