Join
Access FREE Designs
Early access to New Designs
1 Click Login Access
Faster Check-out
CLUB Points
Frequently Asked Questions
We have tried to anticipate any questions you may have, but if you have a query that is not covered here, please email Heather so we can help you, and add your question to this page, as you can be sure if you are thinking it, then someone else probably is too.
____________________________________________________________________________________________________________________________
Do I have to be a Member to purchase your designs?

What are the benefits of being a Member?

How do I become a Member?

How do I download your Free Sets?

How do I Log In to your site? - I can't Log In - Help!

I've forgotten my password

I'm trying to place an order, but I can't 'check-out'

I received my order, but not my free gift set
Where do I add the voucher codes? - I forgot to add the voucher code
My computer has crashed, can I get a copy of all my purchases?

QUESTIONS ABOUT DESIGNS
What formats do you offer?
We offer our designs in
Brother (PES)
Husqvarna/Viking (HUS)
Janome (JEF)
Pfaff (VIP) and (VP3)
Melco (EXP) works on some Bernina Machines
Tajima (DST)
Singer (XXX)
We can convert to many other formats (sorry not ART), but have found these 4 formats to be the most common required, so e-mail us, if you would like another format.
We do sell our designs thru Oregon Patchworks and Secrets of Embroidery - they can offer different formats
What payment options do you offer?
We use the services of Paypal - If you don't have or want a Paypal Account, you can pay via Credit Card.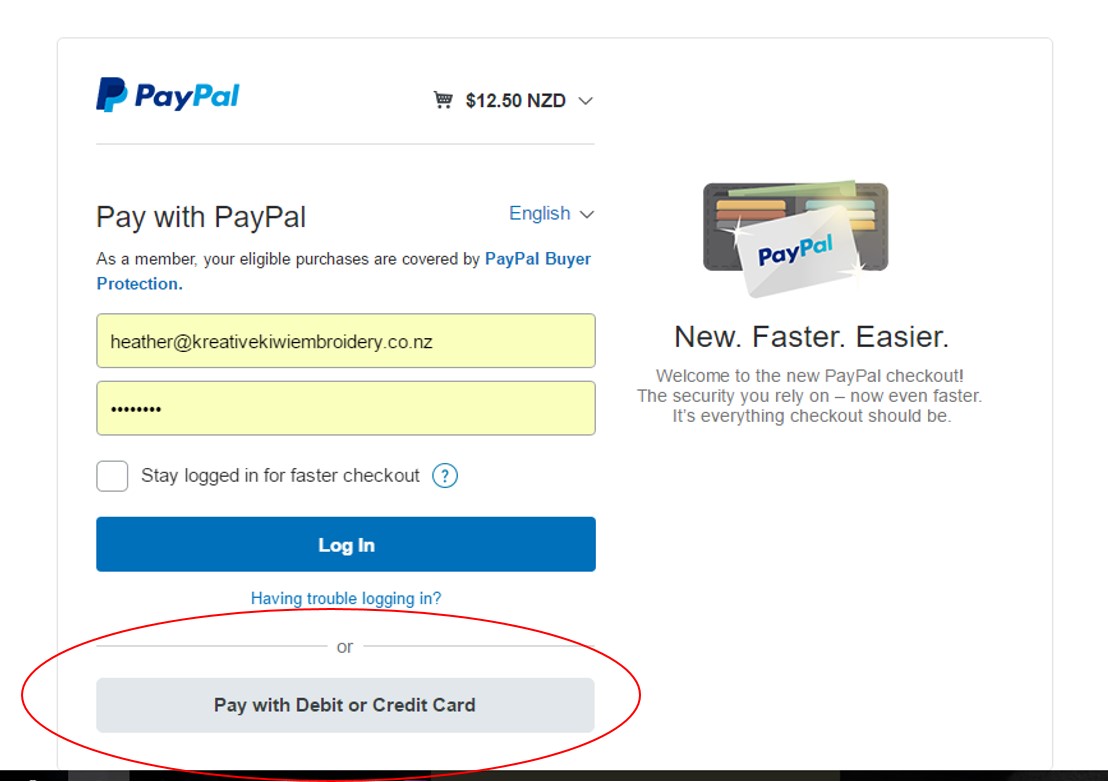 We do sell our designs thru 

Oregon Patchworks

 and 

Secrets of Embroidery

 - they can offer alternate payment methods.

For our New Zealand customers, in addition to Paypal/Credit card, we offer direct On line banking to Kreative Kiwi bank account - simply choose NZD as your currency and the on-line banking option will be shown.
Redwork Sets
Machine Embroidery File
Picture of Design
All other Design Sets will include
Machine Embroidery File
Picture of Design
List of Thread Colors
Full photo Instructions (If required)
We use Madeira Rayon Threads, but please do not be limited by our Color Choices
Unless specifically stated, you can use any thread and.or color of your choice
Instant Download - 

We offer an automated system, which means you get an e-mail with a download link to a zipped file of designs.
Your order history is kept 'forever'.  You can always Log into your Account and View and Download your designs.
Can you digitise a design for me?
Sorry! As a general rule, I do not do custom Digitising.  The main reason is, I'm already working as many hours a day as I can - this is my Fulltime (and more) job and I just do not have spare time, and generally customised digitising, is something 'special' or detailed, that takes many hours to create, test and get right.
They do offer customised digitising through Oregon Patchworks
Can you resize a design for me?
Once again, Sorry! - again, generally re-sizing requests are to make designs smaller - as a rule, if I can offer a design in a 4x4 hoop, I will.  if I don't have a design set in 4x4, its because I have felt that the design would either be too dense, or lose detail, and I would rather offer a quality design in a bigger size.
In saying that, I do help out as much as I can, so you can email me heather@kreativekiwiembroidery.co.nz and I'll see what I can do.
Copyright

Can I sell items using your designs?
We are more than happy for you to use our designs on any products you create. We would love you to send us pictures of your creations that we can add to our gallery for others to admire and gain inspiration from.  If you intend to 'mass market' your products, then please contact us, so we can discuss a commercial license.
The usual copyright restrictions apply.  Copying or sharing embroidery designs is a violation of copyright, and is illegal, so please do not share our designs - even freebies.  We spend an incredible amount of time and energy to create these designs, and feel they are affordable for everyone.  You are welcome to 'edit' our designs for your own personal use, but do not then on-sell those designs as your own.
The legal bit:
All text, images, drawings and sounds and other materials created by Kreative Kiwi Embroidery are subject to Copyright and other intellectual property rights. These materials may not be copied for commercial or personal use or distribution or otherwise modified or re posted to other sites without the express permission from the creator of said embroidery designs. This includes any and all of the code used to produce the designs.
You are permitted to use the designs to create garments for resale you are not permitted to resell the design collections or CD's or individual designs on any auction site or anywhere without the permission of the owner.
These materials may not be copied for commercial or personal use or distribution or otherwise modified or reposted to other sites without the express permission from the creator of said designs. This includes any and all of the code used to produce this site
Refunds/Exchanges
We do not offer refunds or exchanges on our design files.  Due to instant downloads and the ability for designs to be reproduced, as per most items of this type of electronic nature, we will not offer a refund.
If however you have any problems with our files, please contact us, as we will always work with you to ensure you are happy with our product.  If you receive a corrupt or having missing data in your download (we all know what computers are like), we will send you a copy of your design file by e-mail.