Just.. in time for ANZAC day.  For our non Kiwis and Aussies, I'ld like to try and explain the signifigance of 'poppies' to us on ANZAC day.
ANZAC Day in New Zealand and Australia is a public holiday held on 25 April each year to commemorate New Zealanders and Australians killed in war and to honour returned servicemen and women. The date marks the anniversary of the landing at Gallipoli in Turkey of the Australian and New Zealand Army Corps in 1915. The ceremony has evolved since that time and has acquired extra layers of symbolism and meaning.
Poppies have an enduring association with Anzac Day.  Throughout New Zealand, people of all ages wear a red poppy as a mark of remembrance for the men and women who have died in the course of service for their country. Poppies made of light cloth or paper are also woven together to form wreathes which are laid at war memorials up and down the country.
The poppies are a vivid reminder of the sacrifice - the blood lost - in war.
This year the poppie has taken on even more meaning for me.  Sadly 9 weeks ago I lost my Dad and the kids lost their beloved 'Poppy".
Dad was a soldier for over 30 years, (yes I am an army brat), so at his funeral, we had a representative of the Returned Services Association give Dad his last command, and then he invited people to come up and place a poppie on Dad's casket.  While funerals are not nice, the sight of over 100 people honoring Dad with a poppie was very special.
So Soldier G33264 this one is for you!
 

5 designs for the 5x7 hoop and single poppie for the 4x4 hoop

 

 

 

 

 
Michelle stitched this beautiful Tablecloth using these designs - stunning Michelle!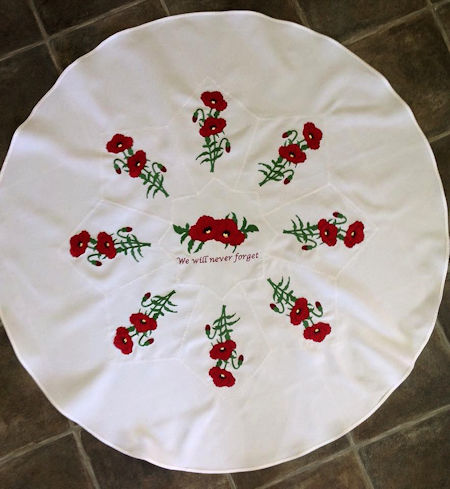 How amazing is this?
Judy stitched 140 of these Coasters for her local veteran home!! - truly awesome!!
Thank you so much Judy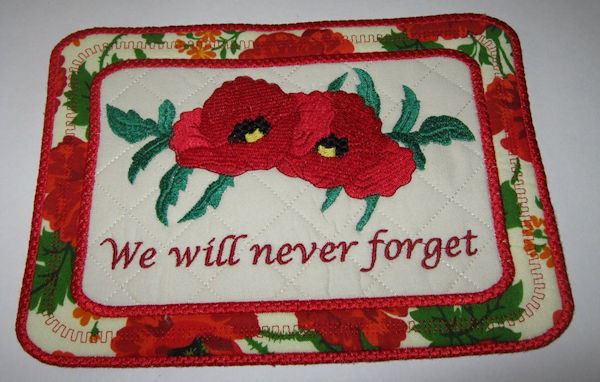 Jo shared this stunning stitch-out of our Poppy Design
Jo writes
"

I'm going to give this as a raffle prize. My village is fund raising to revamp an area that will be a Memorial Garden of Remembrance to the village soldiers who lost their lives in WW1"
Thanks so much for using our design in such a truly amazing way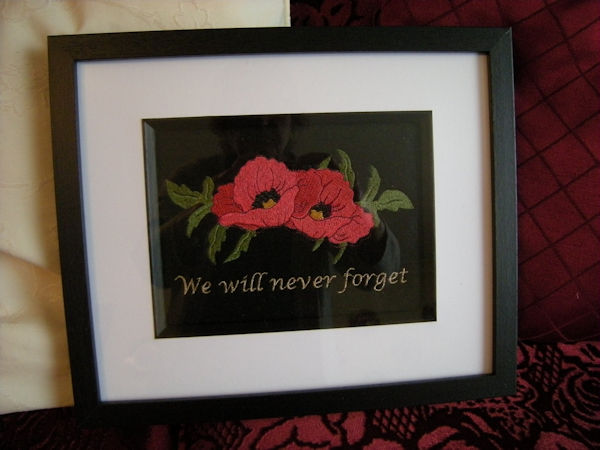 How beautiful are these?  Thanks so much for sharing Gill