AS REQUESTED!!  A friend for Dress Up Daisy
 
 

Dress Up Tony is dedicated to our Darling Toni – our amazing on-line friend and Admin on our Facebook Group. Toni created so many Daisy's, and was the first to offer her tips on strengthening Daisy's neck, and urge me to create a Boy Doll.  This ones for you Toni - Sorry it took so long!! - We miss you
---
 
 

With our Large Applique Joining Technique, you can make a 'large' free-standing doll completely in the hoop (including joining) 

With a 5x7 Hoop, you can create a 13.6 inch Doll
With a 6x10 Hoop, you create a 16.8 inch Doll

If you have a 9x14 hoop, you can create the 13.6 inch Doll in One-hooping
This design set includes:
Design files to create the Dress Up Doll plus these included outfits, which you can mix and match
Full Photo Step by Step Instructions (PDF)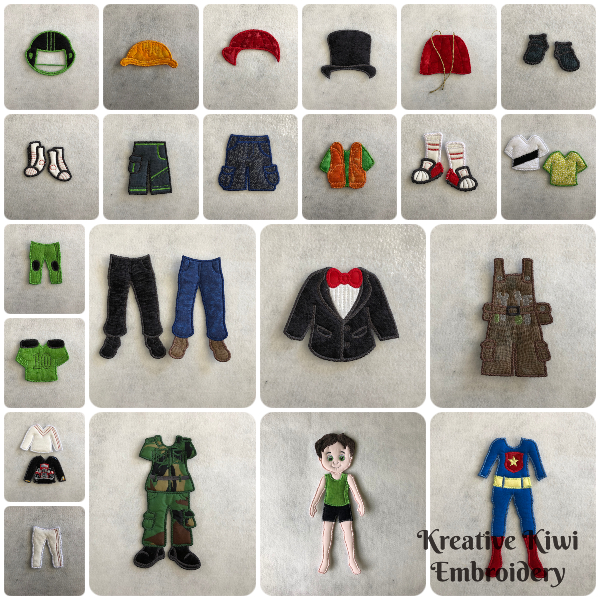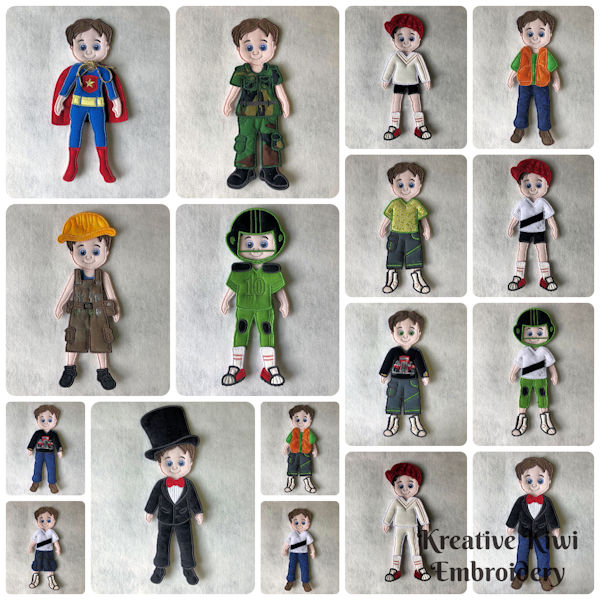 ---
If you are new to this style of design, please watch Kays step-by-step video
Here Kay shares how she makes Tony's shorts
---
INFORMATION ABOUT MAKING DRESS UP TONY
'There's more than one way to skin a Cat'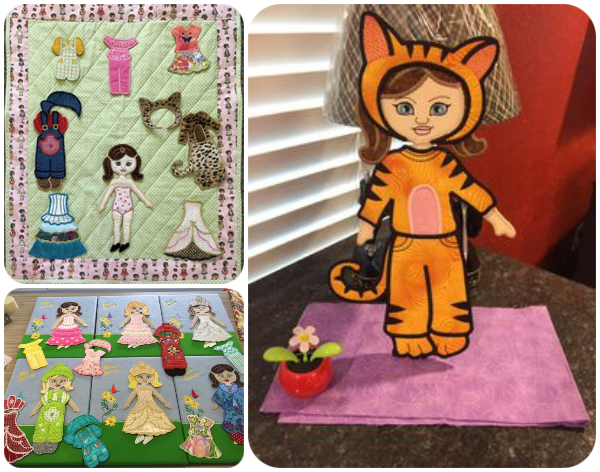 We've learnt a lot since we released our Daisy Doll – what I'd imagined the Doll would be used for, and what you clever Ladies 'actually' used the Doll for was amazing.
 I RECOMMEND YOU READ THE DRESS UP DAISY BLOG AND WATCH KAYS STEP BY STEP VIDEO, BEFORE YOU MAKE DRESS UP TONY 
This will help you decide what type of Fabrics you will use
In 'real life'  many Ladies strengthened Daisy to make her more robust for little fingers.
For my Tony Doll, I used thin batting and cotton fabric on the front of the doll, and Bag Batting as my BACKING Fabric.  I was really happy with how sturdy the Doll and clothes were.  I suspect a heavy felt would do a similar job
 

I used this Bag Batting from Echidna as the backing for my Tony

 

Google Matildas Own Bag Batting for stockists near you

 

 

 
In Kays videos, she uses a combination of cutaway and batting on the front of the doll, and cotton fabric with iron on interfacing front and back
Using a combination of vinyl, with felt on the back may be another option
---
There is no right or wrong way to make the Dress Up Doll - it is personal preference
---
INSTRUCTION INFORMATION 
When you unzip your design files, you will see: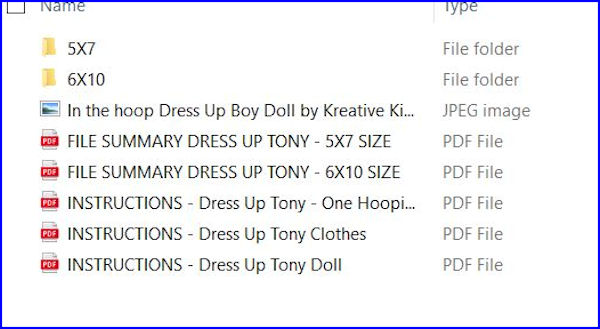 2 Folders
5x7 - Files to make the 13.6inch Doll
6x10 - Files to make the 16.8 inch Doll
DO NOT MIX THE FILES, or the clothes won't fit!!
2 File Summary Sheets 
A summary of files for each size
3 Instruction Sheets
INSTRUCTIONS - Dress Up Tony Doll - READ FIRST - This contains the bulk of the info you need
INSTRUCTIONS - Dress Up Tony Clothes - Photo instructions of each item of clothing
INSTRUCTIONS - Dress Up Tony - One Hooping Instructions - FOR 9X14 HOOPS
---
I CAN'T WAIT TO SEE WHAT YOU CREATE
---