arrow_circle_down Designs
arrow_circle_down Subscribe
arrow_circle_down Items made with KIWI IN THE HOOP Designs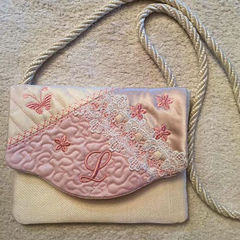 Lillian shared this absolutely gorgeous clutch bag.

Thanks for sharing Lillian

Beautiful!

Another Cutch Bag created by Wilma

So great how one design can be so different

Thanks for sharing Wilma

Sandy used our Mix and Match Bag for these awesome Bags

Such a great use of Fabric Placement Sandy

Thanks again for sharing your work

Sandy also created matching

Thanks Sandy

Thanks for sharing your beautiful work

Paulette

Paulette used our Zip Bag Design

Karen made this bag for her Grand-daughter

Thanks for sharing Karen

Here is Sharon's version of our Make Up Bag

Love the Colors Sharon

Thanks for sharing

Raelene used our Make Up Bag design to create

this Bag for Melba - Thanks Raelene

Florence created these gorgeous bags - adding a crystal in

centre of the Flowers for 'sparkle' -Beautiful Florence

These beautiful bags are all made by Pauline - Thanks

for sharing Pauline

Rhonda's very cute Bag uses our Girl Power Design -

Thanks Rhonda!