arrow_circle_down Designs
arrow_circle_down Subscribe
arrow_circle_down Barbara ** Embroidery Guru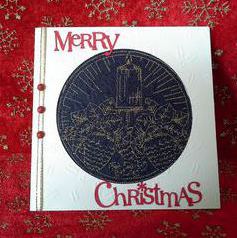 A huge THANKS to Barbara - Barbara gave me lessons on how to use my embroidery machine many moons ago!! So you could all blame Barbara for this website!!
Barbara has shared her Xmas card and Mug Rugs - both of which she has 'jazzed' up (As you would expect from an embroidery teacher!!)
Barbara writes:
Thought I would give you a heads up on the Christmas card I made using one of your designs I bought the other day.
I stitched it on Navy Mulberry paper stabilised with Polymesh. It stitches just like a piece of fabric.
I did resize the design and remove the holy around edges for it to fit it within the circle.
Embossed it and added, wording, a little ribbon and little bling.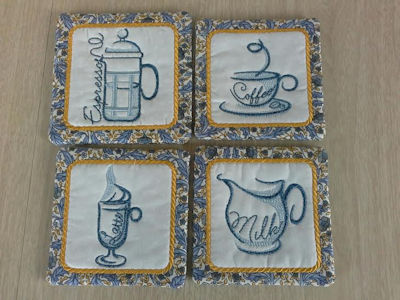 Attached are the mug mats I made from your freebie and the embroidery designs are from the coffee coaster set. Did need to reduce the coffee set slightly to fit the mats. Also increased the size of one mat by10% so it could hold a jug or teapot. Was wrapped with the way they turned out. Thanks