arrow_circle_down Designs
arrow_circle_down Subscribe
arrow_circle_down Lenelle - Santa's Train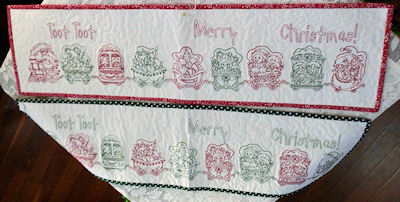 Aren't these runners great!! Lenelle made them using our very popular Santa's Train designs. Lenelle says
I thought you might like to see the two runners I made for our church Christmas Gift Sale in early December. I used the complete set of your embroideries and they created a lot of interest. Both sold quite readily.
At present I am embroidering a quilt for my almost 8 year old granddaughter. I am using all your fairy designs and it is looking really lovely. The designs stitch out beautifully.
Thanks for your kind words Lenelle - Can't wait to see your Quilt.