arrow_circle_down Designs
arrow_circle_down Subscribe
arrow_circle_down Cherry - Quick n Cute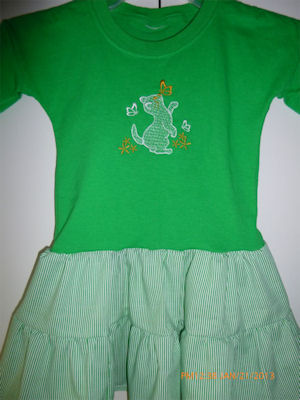 Cherry used our Quick n Cute Cat design on this T-Shirt dress she made for her Great Grand-daughter.
Thanks so much Cherry I not only love how you used the design, but love the dress you made!
Cherry writes: The design stitched out great, especially since it was done on a t-shirt. I did not hoop the t-shirt. All I did was hoop some sticky stabilizer, place the t-shirt on the stabilizer and stitched out the design. She was so excited, especially since I had put the cat on her shirt.