arrow_circle_down Designs
arrow_circle_down Subscribe
arrow_circle_down Raewyn - Maori Designs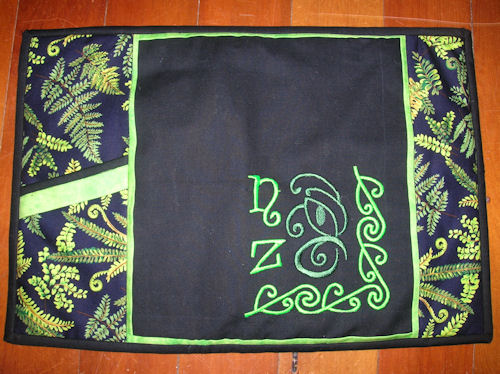 Thank you so much to Raewyn who sent thru her placemat photo. They've already inspired me to make some lovely tableware for our house!
Raewyn writes:
Last time you also asked me what I was going to do with the embroidery of NZ designs I bought from you. I go to a sewing class one morning a month to learn how to use my Janome Embroider Machine correctly and learn placement etc, and this month have made a set of Placemats. I made the design I did because I am sending them to my NZ daughter who lives in Australia. She will love them as they are her colours and of course a bit of Kiwiana.
I have attached a photo to show you. Where the plain strips are on the left of the mat is a pocket to put cutlery or a serviette. I have made a set of 6.
Thank you so much Raewyn.