arrow_circle_down Designs
arrow_circle_down Subscribe
arrow_circle_down Joyce - Raggedy Bag Designs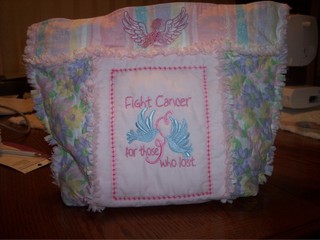 Joyce very kindly sent thru photos of the totes made using the raggy bag instructions. Thank you so much, you have surpassed the 'teacher'. I love what you have done with the pattern.
Here is the info Joyce sent thru:
The things I changed on the tote, I used the "front" of yours for both front and back, because it was just so pretty. Then I added an inside pocket for cell phone, keys, anything you don't want to fall to the bottom, and also added a magnetic snap.
Credit for the embroidery designs is as follows. Tote 1, side 1 - Bella Pink Ribbon Bear from
www.designsandbears.com
. It was a free design for a coaster that was posted on
www.sewforum.com
. I removed the coaster outline and used it like that. The triple ribbon on top panel is from
www.sewterrific.com
. I removed the words "weaving hope" included in the original design so it would fit. Side 2, the word Faith with the butterflies is from
www.katiefund.com
and the praying Angel is from
www.gorgeousstitches.com
from the angels with heart collection.
Tote 2, side 1, the angel is from Sonia Showalter. I got it from
www.thestitcherymall.com
. The set of 5 pink ribbons at the top was another free download but I can't remember where I got it. The doves on side 2 another free download that I didn't mark where it was from and now can't remember. I added the words to that one. The Angel above the doves is from the same collection from gorgeousstitches.com. I have a 4x4 hoop, so I just added a frame on each of the center designs using one of the decorative stitches my machine has. I topstitched the handles with the same stitch.
I hope I didn't make all that confusing but I like to give the designers credit. Each of the designs used were gifts, and I felt they would be appropriate to use on those bags since all money raised will be going for cancer research. Relay for Life is sponsored by the American Cancer Society, and is all volunteer fundraising. You can read more about it here:
http://en.wikipedia.org/wiki/Relay_For_Life
Please, feel free to edit my details; I am not so great at describing things in a simple way! Again, I thank you for the bag pattern. I love, love, love it and your instructions are some of the most well-written ones I've seen. I will be using your pattern a lot, next project is a diaper bag for my niece, using your fairy designs.