arrow_circle_down Designs
arrow_circle_down Subscribe
arrow_circle_down Denise - bag tags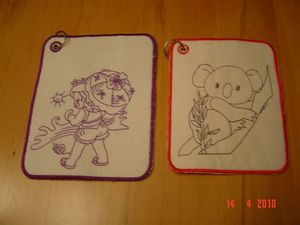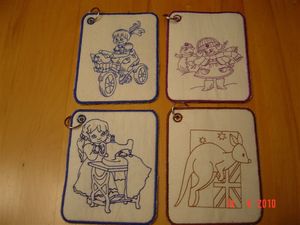 Thanks Denise for sending thru these great photos (and your instructions) I'm so glad you enjoy the designs and put them to good use.
I start with putting the Christmas Kiwi bag tag on the screen then putting the name and address of the person on top of that to make sure it is going to fit( If possible I shrink the label to 80%) and do the typing in the smallest size and shrink it to 80% also. I then delete the actual tag and do the address .
I then pick a Redwork design (I have done applique but that is a lot of work also) and make sure it is going to fit in the size tag I am going to end up with and do that. I sometimes have to shrink them too)
I then put the tag back up on the screen and size it accordingly and start doing the first 2 steps of that putting the design in place.
I then fast forward the tag design to stitch 4881 which is the beginning of putting the back on. I then position the address on the back making sure I keep it as low as I can so not to have the hole of the tag going through it(Been there and done that!!) this is the hardest bit as it is quite hard to make sure it is sitting straight before carrying on , then it is just a matter of finishing off the tag.
One of my Grand daughters went to the Ranger's Jamboree in Melbourne in January and I just did the original Bag tag with her name and address on the back and she had so many of her new friends wanting it as in her words "It was so Cool"
Thanks again for your wonderful designs